Three Bedroom Townhomes

All rental units in our family-friendly development are 3 bedroom, 2.5 bathroom townhomes on 2 floors with a full basement, attached garage, outdoor deck and yard space. Each townhome is part of a 2-unit duplex building.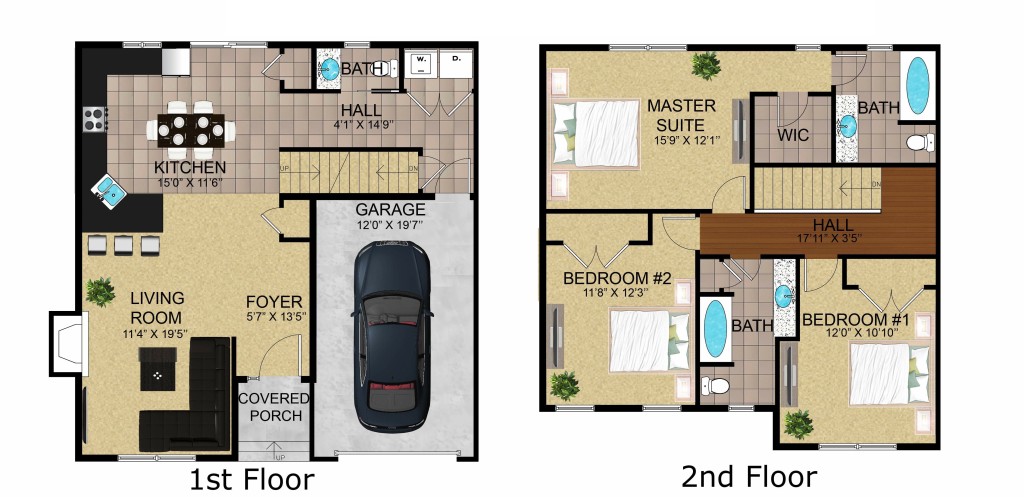 3 Bedroom/2.5 Bathroom Unit 2,820 Total Square Feet
(includes 920 sf basement and 240 sf garage)
Each duplex building contains 2 townhome units
Features & Amenities
– Living Space 1,890 Square Feet on 2 Floors (Does NOT Include Basement)
– 3 Bedrooms, 2.5 Bathrooms
– Each Unit is 100% Soundproof, Maximizing Privacy
– Washer & Dryer Included
– Open Floor Plan Design with Large Kitchen & Living Room Area
– Attached Garage with Separate Entrance
– Full Basement
– Natural Gas Fireplace in Living Room
– Windows in Every Room Maximizing Natural Sunlight
– Granite Counter Tops
– Energy Efficient Construction and Appliances
– Natural Gas Heat & Central Air Conditioning
– Private Backyards with Stone Patio
– Large Master Bedroom with Walk-in Closet and Master Bathroom
– Carriage-style Garage Doors, Cultured Stone, Shakes and Architectural Shingles
– Professional Landscaping, Lawn Care & Snow Removal
– Private Backyards with Deck or Stone Patio
– Quiet, Peaceful Neighborhood
Location
– Guilderland School District
– SUNY Albany & Saint Rose
– NanoTech (CNSE) Campus
– Stuyvesant Plaza & Crossgates Mall
– Fine Dining Restaurants
– Bank of America, Citizen's Bank, M&T, Trustco and Key Bank
– Planet Fitness & Vent Fitness
– McGowan Park
Sign up now for the first available units. Move-in date set for early Spring 2015
Pre-construction applications are being taken now for the first available units.
Tours and open house will be in the spring for any available units.
Schoolhouse Luxury Townhomes offer a family friendly community that is pet free and smoke free